Jody Jones Wins Soldiering On Awards Sporting Excellence Award – Sponsored by Spectra Group
We are delighted to announce that Jody Jones has won the Sporting Excellence Award, sponsored by the Spectra Group.
The Sporting Excellence Award honours a person or team that has overcome challenges, inspired others, and demonstrated outstanding achievement in the field of sport. Spectra Group is proud to continue to support the Soldiering On Awards and the fantastic 2020 Finalists. The standard of nominees was again extremely high this year, and to be selected as a finalist is a tremendous achievement of which they should all be incredibly proud. It is the 10th year of these awards, and we are honoured to have been here since the beginning. All the finalists are real role models, not just for the Armed Forces community, but for the country as a whole.
After her diagnosis of stage 4 bowel cancer, the incredible Jody swam the English Channel, raising £11,000 for Blesma, The Limbless Veterans. After 2,000 km of training followed seven surgeries, 21 infusions chemotherapy; Jody swam the 21 miles unaided in 18 hours, 14 minutes and 30 seconds, contending with strong currents, jellyfish and large ships.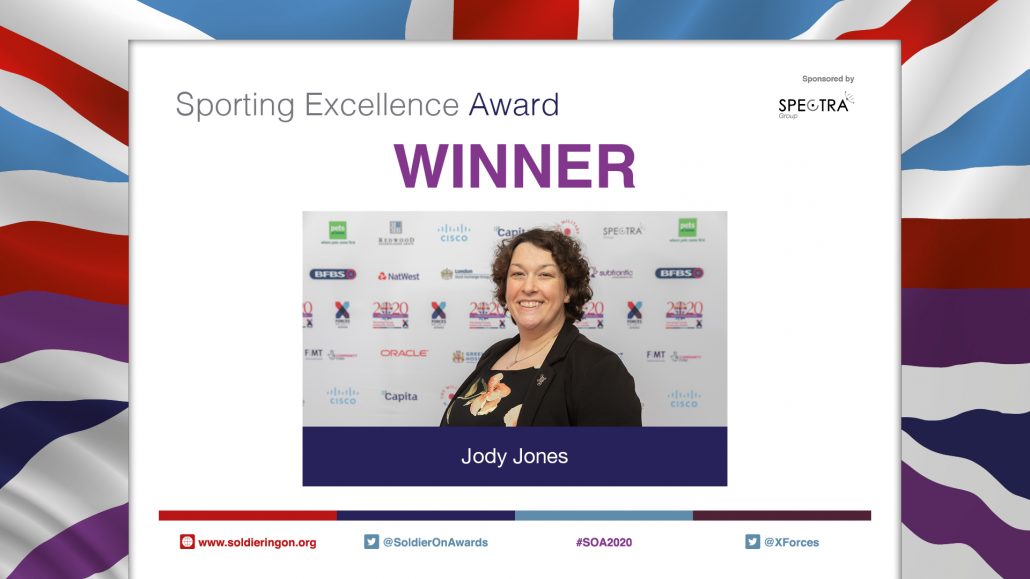 Successful businesswoman, Veteran's wife and mother to two young children, Jody Jones volunteers as the Chair of the North London Military Wives Choir. Jody's drive and determination encompass everything it takes to be both a great sporting champion and a vital member of the Armed Forces community.
Our other finalists were:
Michael Lewis – after suffering a below knee amputation, Mike was determined to compete in mainstream sports, competing in numerous mud runs, a half marathon, three boxing matches and a car rally. Mike is a community fundraiser for the Royal British Legion.
James Rose – Despite losing both legs above the knee and with a history of PTSD and depression, James successfully won medals in the Invictus games, and set the record for becoming the first unaided double amputee to climb Mount Kilimanjaro.
Lt Colonel Ren Kapur MBE, CEO of X-Forces Enterprise and Co-Chair of the Soldiering On Awards said: "The selfless dedication of our winners is both humbling and inspirational. It is so special to share these moments of celebration, not just with the winners but with all of the finalists.
"We couldn't do this without the continued support of our sponsors, who have stood by us, and our finalists through challenging and uncertain times. Our growing community is stronger than ever."
https://spectra-group.co.uk/wp-content/uploads/2020/01/soldieringon_2020.png
236
301
jmferros
https://spectra-group.co.uk/wp-content/uploads/2017/07/logo-banner.png
jmferros
2020-10-05 08:48:05
2020-10-05 09:32:23
Jody Jones Wins Soldiering On Awards Sporting Excellence Award – Sponsored by Spectra Group