Spectra Group achieves
ISO 9001:2015 Accreditation
Spectra Group (UK) Ltd achieves ISO 9001:2015 Accreditation.
---
Spectra Group are proud to announce that they have been accredited with ISO 9001:2015 by the British Assessment Bureau.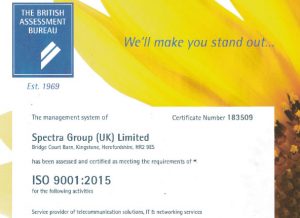 ISO 9001 requires organisations to demonstrate that they have a Quality Management System in place to ensure consistency and improvement that leads to high levels of performance and customer satisfaction.
The ultimate goal of the certification is to highlight companies that are truly "best-in-class" and provide services, products and skills that are not only industry leading, but also provide fantastic value and experiences to customers.
Simon Davies, CEO of Spectra, had the following to say:
"I am delighted that we have once again achieved ISO accreditation and met the stringent expectations of the British Assessment Bureau. This independent review further solidifies Spectra as a leading expert in cyber security and encrypted communication."
First certified in 2009, this most recent certification for Spectra marks the continued long standing and high quality performance shown by the telecommunications specialist.
You can find Spectra's ISO accreditation here.