COMPLIMENTARY SERVICES PROVIDE RELIABLE AND SECURE MILITARY COMMUNICATION
Successful military operations heavily rely on reliable, secure, and resilient communications. In order to keep up with high-tempo operations, it is essential that the communications architecture can operate at pace over extended distances. Recent conflicts and operations have demonstrated the necessity for communications systems that can function in a contested battlefield against a highly technical adversary with significant Electronic Warfare (EW) capabilities. Spectra provides capabilities at both ends of the spectrum.
Spectra provides capabilities at both ends of the spectrum; Its SlingShot / L-TAC service provides secure, low latency tactical voice command and control service and Troposcatter which provides a low latency beyond line of sight high data throughput service. Both services have proven resilient against state sponsored EW assets.
SlingShot
Spectra Group's SlingShot system uses Inmarsat's commercial L-Band satellites to deliver secure military BLOS (beyond line of sight) narrowband Voice and Data communications over 1000s Kms. Inmarsat's geostationary satellites provide global, uncontended coverage for SlingShot, enabling in-service tactical radios to utilise L-Band commercial satellites, making them more resilient to intercept and detection and subsequently more difficult to be subject to a denial of service attack.
Features
SlingShot provides a secure, low-latency tactical voice command and control service.
Military troops can communicate securely on land, sea, and air on the man and on various platforms, including land vehicles, maritime platforms, and both fixed-wing and rotary aircraft over vast distances, static or on the move.
SlingShot offers high availability and worldwide coverage, enabling agile mission planning and rapid response for military operations.
Mobile BLOS communications improve situational awareness, decision-making, and coordination and synchronisation.
Security
Tactical communications are subject to enemy eavesdropping, jamming, and disruption, SlingShot helps protect tactical communications from hostile interception, detection, and disruption by using extremely low power and hiding in the noise of the commercial satellite. By employing some simple EW defensive techniques security can be enhanced.
Benefits
Maintaining situational awareness, coordinating activities and operations, and making quick decisions in changing circumstances require reliable and effective communication. Military personnel in the field benefit from its small form factor, low power consumption, ease of use, and training. SlingShot is an operationally proven force multiplier that continues to deliver the required level of service for this demanding environment.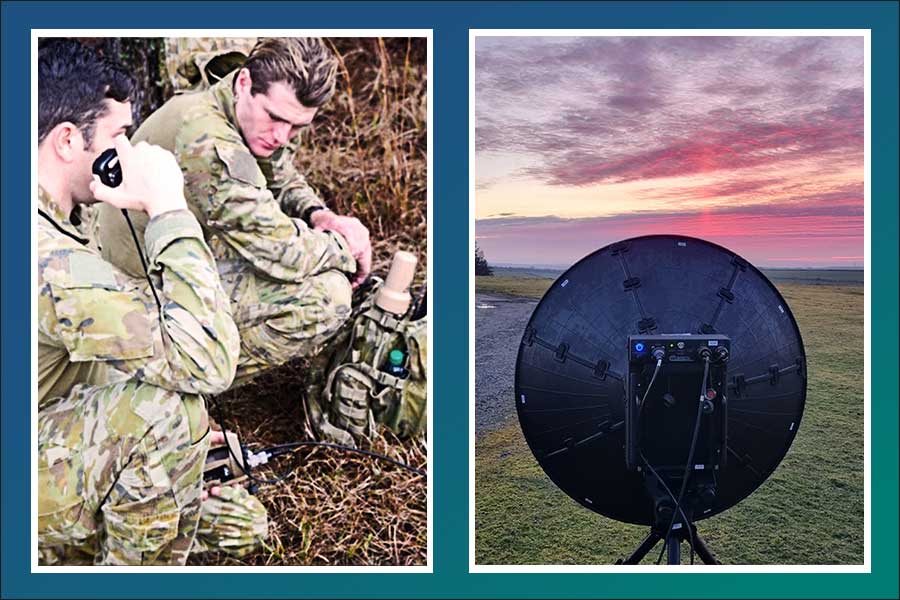 Troposcatter
Comtech's next generation of Troposcatter technology delivers data rates up to 210 Mb/s up to 200 miles (320km) without the need for terrestrial infrastructure or satellite repeaters. The technology is particularly applicable to today's battlefield, as it is extremely low latency (circa 7 ms) and narrow beam width.
Security
This technology, used in conjunction with its Direct Spread Spectrum waveform, is very difficult to detect and intercept and even more difficult to deploy effective jamming against. The terminals are lightweight and set up in less than 15 minutes, enabling effective communications to keep up with the pace of advancement.
Applications
Troposcatter technology is particularly useful in environments where fixed communications or BLOS SATCOM is compromised or where SATCOM is limited (such as in Polar regions). It can also be used for rapid deployment, to strengthen BLOS SATCOM infrastructure, or as a fixed, resilient, and robust network for smaller deployments. The Troposcatter equipment can be relayed together to extend the range of a single link.
Products
Comtech's COMET™ is a small and light modular man-packable Troposcatter system that can be set up by one person in as little as 15 minutes. The CS67PLUS Troposcatter radio is the heart of the system and can operate in single-stream or dual-stream with data rates ranging from 946 kbps to 210 Mbps over 43 miles (70km) based on terrain. The Comtech COMET™ can easily be linked with other communications systems, such as MANET radios, to provide a dispersed HQ, with the Troposcatter situated a number of miles away.
The Modular Transportable Transmission System (MTTS) is a flexible, rapidly deployable, modular transit case Troposcatter system that is capable of 210 Mbps over 200 Miles with extremely low latency. The CS67PLUS Troposcatter Modem/Radio is the first software-defined adaptive Troposcatter modem and radio packaged in a compact sealed module that supports Line-of-sight (LOS) and Troposcatter beyond line-of-sight (BLOS) communications.
Conclusion
Secure, resilient, and reliable communications are critical to mission success. Without it, troops and assets will not be able to stay informed, coordinate actions, synchronise operations, and make quick judgments in challenging circumstances. SlingShot's secure, reliable communication helps military personnel meet mission goals and succeed while Troposcatter can allow distant sites to maintain high data rate, low latency communications to pass large amounts of data securely and very quickly shortening the decision cycle.
Simon Davies Answers Some SlingShot Questions