Soldiering On Awards 2019:
the results
Soldiering On Awards 2017: the results.
---
This years Soldiering On Awards  took place on the 24th of March, continuing its annual tradition of providing national recognition for the armed forces community. Located at the Park Plaza at Westminster Bridge Hotel, the spectacular event was hosted by TV presenter and former newsreader Angela Rippon, in the presence of the charity's Patron Rt Hon Earl Howe PC. The evening focused on highlighting the outstanding achievements of those who have served their country and individuals and groups who work together with the Armed Forces Community. Spectra Group (UK) Ltd was honored to once again be able to support the evening.  
The event began with a Taittinger Champagne reception and included a three course banquet with wine, coffee and petit fours; an inspirational awards ceremony followed and great entertainment finished the evening. Spectra Group sponsored  the Sporting Excellence category, recognising the 6 finalists that had overcome their disability or injury to excel in the field of sport, as either an individual or as a team. CEO of Spectra Group UK, Simon Davies was on hand deliver the award to the winner.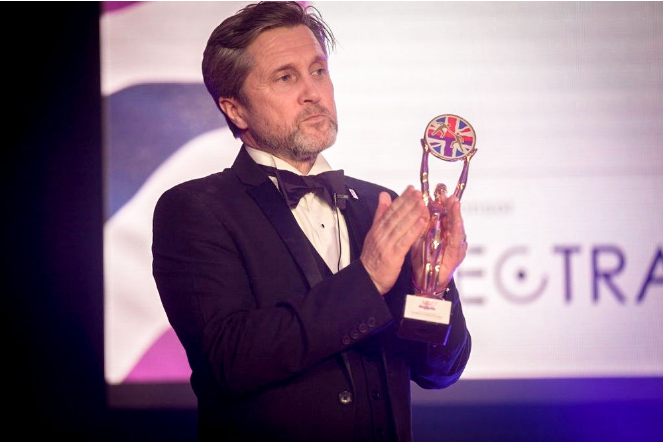 Simon Davies, CEO of Spectra Group (UK) Ltd, presenting the Team Award to Row2Recovery at the 2017 Soldiering On Awards.
Individual Winner: The Sporting Excellence Award was won by the extraordinary Owen Pick, a soldier who lost his leg in a Taliban bomb blast whilst serving in Afghanistan who has since become competitive snowboarder. Within 18 months of being discharged from the army, Owen hurtled up the World rankings, beating experienced able-bodied competitors. Owen is currently  rated 7th in the World and is on target for a podium place in the 2018 Winter Paralympics in South Korea.
Team Winner:  
BLESMA Row to Recovery Team – In 2016 the team set a world record as the first all amputee crew to row across an ocean. The feat took 46 days, six hours and 49 minutes to complete and team finished eighth out of 26 taking part in the Talisker Whisky Atlantic Challenge.

Tyler Christopher – Tyler lost both legs above the knee in 2009. He played roller hockey before injury and found Ice sledge Hockey afterwards. Tyler began playing for a local team and was soon scouted by Team GB and is currently ranked 3rd in Britain.

Scotty Darroch – Scotty has dealt with a lot since first attending combat stress in 2013. He has since gone on to excel in sports through Help for Heroes, and the use of their recovery centres. Scotty competed in the 2015 warrior games and 2016 Invictus games in Orlando competing in six events.
Mark Smith – The routine and discipline Mark was used to in Army was harnessed to bodybuilding after he lost his leg in a live fire incident. Over the course of a year, Mark developed an incredible physique that could hold its own in the bodybuilding world. Mark has helped pave the way for other disabled competitors by contacting sports promoters and lobbying to have disabled categories added to the programmes.

Mark Threadgold –  After losing his sight, ending a 15-year career in the Army. Mark used sport to regain his confidence and has since taken part in the Great South Run and set his first world record as fastest blind circumnavigator of the Isle of Wight in a rigid inflatable boat. Mark incredibly set another world record for deepest scuba dive and closed-circuit rebreather dive by a blind person, and also cycled more than 150 miles from Brighton to Paris in three days.
Winners were selected by a distinguished Independent Judges Panel, co-chaired by General the Lord Dannatt GCB CBE MC DL and Debra Allcock Tyler, Chief Executive of the Directory of Social Change.
The Soldiering On Through Life Trust encourages support for the UK's Armed Forces Community by nationally recognising the achievements of groups or individuals supporting this Community through the annual Soldiering On Awards.